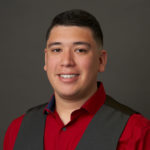 Marcos Urrea
Paralegal/Legal Assistant
Marcos Urrea is a Paralegal/Legal Assistant at Immigration Equality.
Prior to joining the Immigration Equality team, Marcos worked with refugees, asylees, and asylum seekers at the St. Paul Healing Center of the Center for Victims of Torture (CVT) in St. Paul, MN, and as an AmeriCorps State at the Center for Well-Being's Survivors of Torture program at the International Rescue Committee, in Tucson, AZ, bringing experience working with clients in trauma-informed settings. Marcos also has experience managing a team of interpreters at CVT representing over 20 different languages, and has volunteered his time doing interpretation and translation for Advocates for Human Rights in Minneapolis, MN.
Marcos holds a B.A. in Political Science with an International Relations focus from the University of Arizona and is fluent in English and Spanish.
single-staff.php