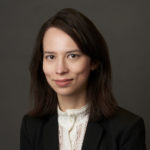 Liza Doubossarskaia
Staff Attorney
Liza Doubossarskaia is a Staff Attorney at Immigration Equality.
Liza obtained her Juris Doctor from Washington University in St. Louis in May 2019. As a law student, Liza interned with the Migrant and Immigrant Community Action (MICA) Project in Saint Louis, where she assisted with preparation of asylum cases, cancellation of removal, and VAWA self-petitions. Liza also completed a full-time internship at the Tahirih Justice Center. There, she worked with immigrant women who were survivors of gender-based violence to apply for various forms of immigration relief, such as battered spouse waivers, T visas, and SIJS. As a law student, Liza also completed a full-time externship with Immigration Equality, during which time she assisted clients in preparation or their withholding of removal and asylum cases.
Prior to attending law school, Liza served as a Peace Corps Volunteer in Paraguay between 2012 and 2015. As volunteer, Liza worked with community stakeholders to implement educational and health-based initiatives. Liza holds a B.A. in Government and International Relations from George Mason University and an M.A. in International Studies from the University of San Francisco. She is fluent in Russian and Spanish.
single-staff.php