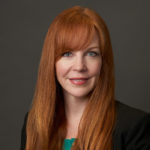 Bridget Crawford
Director of Law and Policy
Bridget Crawford is Immigration Equality's Director of Law and Policy.
As such, Bridget supervises Immigration Equality's legal services program which provides representation to over 800 LGBTQ and HIV-positive individuals annually through in-house staff and a nationwide network of pro bono attorneys. In addition, Bridget manages Immigration Equality's impact litigation and policy advocacy, and directly represents clients in proceedings.
Before joining Immigration Equality, Bridget was a litigator, first at Jones Day and then with Cowan Liebowitz & Latman, where her practice focused heavily on complex federal and state court litigation, appellate work and administrative proceedings. Bridget also served as General Counsel for Blue Man Productions, LLC, the global entertainment brand best known for the award-winning Blue Man Group show.
Bridget is a graduate of George Washington University Law School and a member of the American Immigration Lawyers' Association (AILA).
single-staff.php