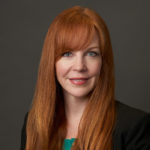 Bridget Crawford
Legal Director
Bridget Crawford is Immigration Equality's Legal Director.
As Legal Director, Bridget supervises Immigration Equality's impact litigation and legal services program. She also directly represents clients in immigration proceedings at all levels.
Before joining Immigration Equality, Bridget was a litigator, first at Jones Day and then with Cowan Liebowitz & Latman, where her practice focused heavily on complex federal and state court litigation, appellate work and administrative proceedings. While at Jones Day, she served as co-head of the firm's pro-bono asylum program where she oversaw affirmative and defensive asylum cases and directly represented clients in a variety of immigration matters.
Most recently, Bridget served as General Counsel for Blue Man Productions, LLC, the global entertainment brand best known for the award-winning Blue Man Group show where she provided strategic and legal advice and support to all company departments and oversaw company litigation.
Bridget is a graduate of George Washington University Law School where she was the recipient of the Michael Dillon Cooley humanitarian award.
single-staff.php