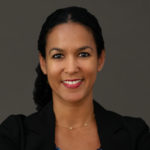 Anika Lewis
Staff Attorney (Part-Time)
Anika Lewis is a part-time Staff Attorney in Immigration Equality's Pro Bono Program. She previously worked as a litigation associate with Pryor Cashman LLP and has also worked pro bono with various nonprofit human rights organizations. In addition to her work at Immigration Equality, she currently volunteers with Safe Passage Project providing pro bono representation in a Special Immigrant Juvenile Status case.
Anika has a J.D. from Columbia University School of Law and a LL.M. in International Legal Studies from New York University School of Law (NYU). Subsequent to completing her studies at NYU she served as a NYU International Law and Human Rights Fellow at the Inter-American Commission on Human Rights in Washington D.C.
Anika also previously worked as a litigation attorney in Trinidad and Tobago, her country of nationality, and holds a LL.B. degree from the University of the West Indies.
single-staff.php