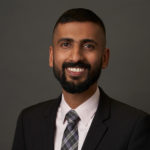 Amitesh Parikh
Senior Staff Attorney, Pro Bono Program
Amitesh Parikh is a Senior Staff Attorney in Immigration Equality's Pro Bono Program.
Prior to joining Immigration Equality, Amitesh was a Senior Associate at Pu-Folkes Law Group, where he worked on direct representation of clients in affirmative and defensive human rights, family, and business-based immigration applications. As a Senior Associate, he focused his work on waivers of inadmissibility and responses to complex Requests for Evidence. Before working at Pu-Folkes Law Group, he was a Policy Fellow at the National Center for Lesbian Rights where he worked on expanding the definition of sex discrimination and was also a legal fellow at Transparency International USA, where he worked on issues around third-party anti-corruption due diligence.
Amitesh is a graduate of Duke University School of Law and a graduate of the University of Texas at Austin in Government and Russian, East European, and Eurasian Studies. He speaks Russian, Hindi, Gujarati, and Urdu.
single-staff.php