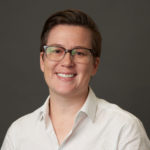 Kristen Thompson
Communications Director
As Immigration Equality's Communications Director, Kristen guides the organization's communications strategy, centering clients' lived experiences across press and digital media.
Prior to joining Immigration Equality, Kristen spent five years working in reproductive rights communications and advocacy. Most recently, as Associate Director for Latin America Initiatives at Women's Equality Center, she worked with partner organizations in El Salvador and Dominican Republic to build strategic communications campaigns at the national and international level advocating against those countries' total abortion bans. As Manager of Global Online Advocacy and Engagement at the Center for Reproductive Rights, she led digital advocacy campaigns to expand abortion access in Kenya, El Salvador, and Ireland.
Kristen's previous experience in social activism includes defending children's health coverage in California, researching LGBTQ human rights violations in Colombia, and coordinating a volunteer literacy program for Chilean youth.
She received her Bachelor's in History and International Development from UCLA, her Master of International Affairs from Columbia University and is fluent in Spanish.
single-staff.php