Denis, a gay Russian asylum seeker living with HIV, was unjustly thrown into immigration detention for 46 days. Immigration Equality not only fought to secure his asylum, we challenged the system that targeted him.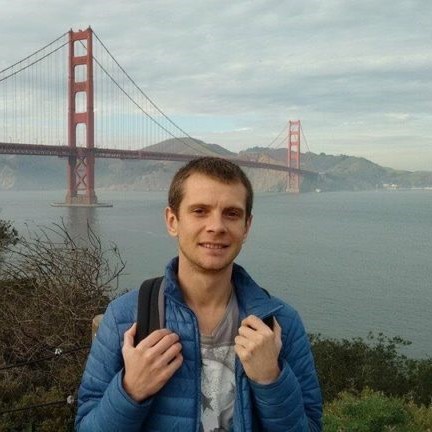 Denis
During the 46 days I spent in immigration detention, officers called me "Mr. 876 Russia." They treated me like a criminal and erased my identity—but I fought back, and today I'm standing strong.
My name is Denis, and I'm a gay man from Russia living with HIV. In 2013, the Russian government passed a deeply homophobic law, which painted people like me as perverts who were killing the country. Vigilante groups attacked and raped gay men, then posted the videos online. I lived in constant fear. Ultimately, I had no choice but to escape to the United States.
I landed in San Francisco—the best place on this planet for queer people. For the first time in my life, my sexual orientation didn't put me in danger. I could be open about all aspects of my life. It was magical. I joined a support group for HIV-positive people, and I finally felt safe. I knew I couldn't go back to Russia, where the situation was becoming more hopeless.
I applied for asylum, and with my case underway, I could travel within the country. I took a week-long vacation to the U.S. Virgin Islands, but on my way back home to San Francisco, immigration officers stopped me, interrogated me, and arrested me. I explained my status as an asylum seeker, but they ignored me.
They flew me to a detention center in Miami where they put me in handcuffs, ankle bracelets, and wrapped a chain around my waist. I felt scared and alone. My situation was bleak, but I'm grateful I had the support of Immigration Equality. They were a lifeline for me when I had nowhere else to turn.
While I was detained, I lost control over my health and the ability to manage my HIV. ICE held me in a room with 100 other people, and due to my compromised immune system, I was vulnerable to infections. Within a week of being detained, I developed a fungal infection, fever, and insomnia from stress.
My lawyer from Immigration Equality explained to an immigration judge that each day I spent in ICE custody, my life was in danger. But he didn't seem to care. He wouldn't let me attend my asylum hearing or halt my deportation proceedings. I endured another month in detention and even spent my 30th birthday there. I was a criminal in the eyes of the U.S. government.
Despite my situation, I consider myself fortunate. Immigration Equality alerted the media and members of Congress who pressured the government to release me. After 46 days in detention, I was finally free. I had people fighting for me, and that's not the case for many queer, trans, and HIV-positive asylum seekers. Now more than ever, people in detention need access to Immigration Equality's legal services.
The last five years of my life have been a rollercoaster ride. I went from being scared to walk the streets in Moscow, to feeling safe in San Francisco, to being terrified in ICE detention. Now my life is stable, and I have hope for the future. I'm overjoyed to tell you that in July 2019, I won asylum! I couldn't have done this without Immigration Equality.
Now, I'm proud to say I'm an advocate, too. I flew to Washington, D.C. to tell Congress face-to-face that no one should ever have to go through what I did. I asked our policymakers to help LGBTQ and HIV-positive asylum seekers find what we can't in our home countries: support, safety, and the freedom to be who we are.
The LGBTQ community, and all asylum seekers, deserve better. We deserve to be treated with respect and dignity. That's what Immigration Equality fights for every day. To dismantle obstacles to those seeking safe haven. To clear the path for LGBTQ and HIV-positive asylum seekers.
Immigration Equality was a lifeline for me, and with your help, will continue to be a lifeline to so many others in detention.
single-client-story.php