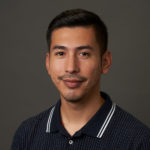 Ricardo Medina
Paralegal/Legal Assistant
Ricardo Medina is a Paralegal/Legal Assistant at Immigration Equality.
Prior to joining the organization, he worked for the Centro Legal de la Raza in California. There, he gained experience in immigration, housing, and employment law and developed the tools to advocate on behalf of those most vulnerable in low-income communities of color.
Ricardo has his A.S. in social and behavioral sciences from City College of San Francisco and is currently working on a bachelor's degree in Sociology. He was born in Mexico and is fluent in Spanish.
single-staff.php