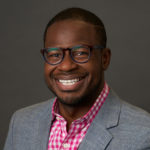 Sidney Jackson Jr.
Development Director
As Development Director, Sidney is responsible for managing the relationships with Immigration Equality's funders and contributors, leading fundraising strategy and working with the Immigration Equality development team, board and program staff to build out the organization's fundraising initiatives.
Prior to joining Immigration Equality, Sidney was Director of Development for the New York Urban League where he oversaw their $2.6 million fundraising department and helped grow and diversify their funding streams.
During Sidney's tenure at Helpusadopt.org, he increased their fundraising from $300,000 to nearly $1M. In addition, he expanded Helpusadopt.org's funding streams to create a well-balanced development office. Sidney has also been part of growing development operations at Harlem School of the Arts where he helped them through a $1M campaign as Individual Giving Manager. At Planned Parenthood Federation of America, Sidney worked in their Foundations and Corporations Department, where he developed their foundation fundraising strategy which resulted in $60M+ in foundation and corporate support. Before that, as a development consultant he worked with the American Radio Choir to increase their visibility within the community, and was a Program Associate at Community Works, where he increased their revenue by 3% with a direct mail campaign, e-blasts and an enhanced website presence.
Sidney is a graduate of Stetson University – GO HATTERS! He holds an MBA and undergraduate degree in Vocal Performance – Opera and elective studies in Business Administration.
single-staff.php