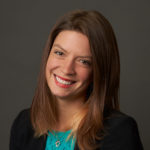 Jillian DeSimone
Annual Fund Manager
Jillian is Immigration Equality's Annual Fund Manager. She joins Immigration Equality after over two years on the development team at Ars Nova—a $2.9m non-profit theater dedicated to discovering, developing, and launching singular theater, music, and comedy artists in the early stages of their professional careers. As Development Manager, Jillian worked closely with the Development Director, raising nearly $1.7m in contributed revenue in her first year. By the end of her second year, her aptitude for Individual Giving and Special Events became evident and these areas became her specialization. As a result of this restructuring, Jillian notably raised $276k through leading an unbudgeted spring benefit, and her team collectively increased the annual contributed income from $1.7 to $2.1m, with an additional $1.7m raised through Ars Nova's Capital Campaign.
Prior to her time at Ars Nova, Jillian worked in Institutional Partnerships at The Public Theater for nearly 2 years, supporting Foundation, Government, and Corporate Relations for the $35m organization by drafting Foundation and Government proposals and supplemental materials and collaborating with the Marketing Department on Corporate activations, partnerships, and Delacorte Investor portfolios. She also interned for Ars Nova and served as their Executive Assistant and Ticketing Coordinator prior to her work at The Public Theater.
In her spare time, Jillian plays the Surdo in an all-female Afro Brazilian Samba Reggae drum corp called BATALA, is on the Membership Committee of the Greene Hill Food Co-Op, and volunteers as an usher for several Non-Profit theaters across New York City.
Jillian is a graduate of Marymount Manhattan College.
single-staff.php